Photo by Maya Fuhr

Ariel Katz
Wordsmith, EVERYBODY.WORLD
EVERYBODY.WORLD is a Los Angeles-based ethical and sustainable fashion company that's reimagining fashion one clothing at a time.

Co-founders Iris Alonzo and Carolina Crespo, who met at American Apparel, see themselves as product developers, not clothing designers. They ventured out on their own by inviting friends and family to design a missing piece of clothing in their wardrobes, and shared profits with them. Quickly they realised there were on to a new business model.

We speak to Ariel Katz, EVERYBODY.WORLD's Business Development and Partnerships Lead, who share with us about how their team approaches fashion with equity-and-ecology-first fundamentals. They have been there from day one, transitioning from a freelancer to a full-time team member — and Contributor Collection designer — affording us a vantage point of the brand's intentional design process.
EVERYBODY.WORLD's people-first approach underscores that fashion is about the hands that make it. Read on to find out about their design and repair model, and how they intend to keep their "Trash Tee" out of the trashcan.
Photos by Sydney Yatco
Hi Ariel, tell us who you are and what you do.

Hi! My name is Ariel Katz (they/them) and I'm a sensitive scorpio with a positive outlook and a love of seltzer. I currently live in Sydney, Australia with my fiancé, Jerico, and our dog, Babka, and I work for
EVERYBODY.WORLD
as their Business Development & Partnerships Lead.
How does a day in your life look like?


I'm a creature of habit. Each day I walk my dog, I buy an iced black coffee, I toil at my computer, I go to the gym, I spend time with my partner, I doom scroll, I cook, I laugh, I FaceTime, and as much as possible I go to the ocean.
How did you find yourself at EVERYBODY.WORLD?
Almost five years ago I was connected with EVERYBODY.WORLD Co-Founders, Iris and Carolina, through a mutual colleague-slash-friend. I would pop by their space once a week to contribute as a freelance copywriter.
They've allowed me to grow so much as myself and within their small business since then; I now work full-time for the brand heading up our online store, marketing, and partnerships. I also designed
Ariel's Everyday Shorts
for our Contributor Collection!
Photo by Maya Fuhr
What's one thing that you understand differently since joining EVERYBODY.WORLD?
How many people are involved in the process! There's so much gorgeous humanity that lies behind every single garment,
even something that seems simple like a T-shirt has something like 60 skilled workers directly involved in making it
.
Photo by Alexis Gross
I imagine it's an arduous task to produce sustainably. Would you like to shed light on how the brand is tackling some of these challenges?
A huge part of what makes fashion so environmentally unfriendly is that it produces an enormous amount of waste. For our
Trash Collection
, we reimagined and repurposed existing cotton waste, transforming it into T-shirts and fleece that feel good on and are designed to last. These textiles are the first of their kind in the world! It's a much more complicated approach, and it took a lot of time and iteration to get the hand-feel just right.
Through this process, no virgin materials are used, and there's a smaller carbon footprint by way of being made within the United States, under California's strict EPA standards to boot! It's an entirely new way to address sustainability in apparel.
And how do you further encourage sustainable consumption?

Despite its name, we hope our Trash Tee never goes into the actual trash.
We want folks to be happy and love wearing their EVERYBODY.WORLD as much as possible, so
we offer to repair anything purchased from us that needs a hand holding up to life's rigorous push and pull
.
We mend things at our HQ in LA, or if people want to make the repair themselves, we can organize to send them any buttons or other trims they might need. That way, they can keep wearing their favorite pieces for as long as possible.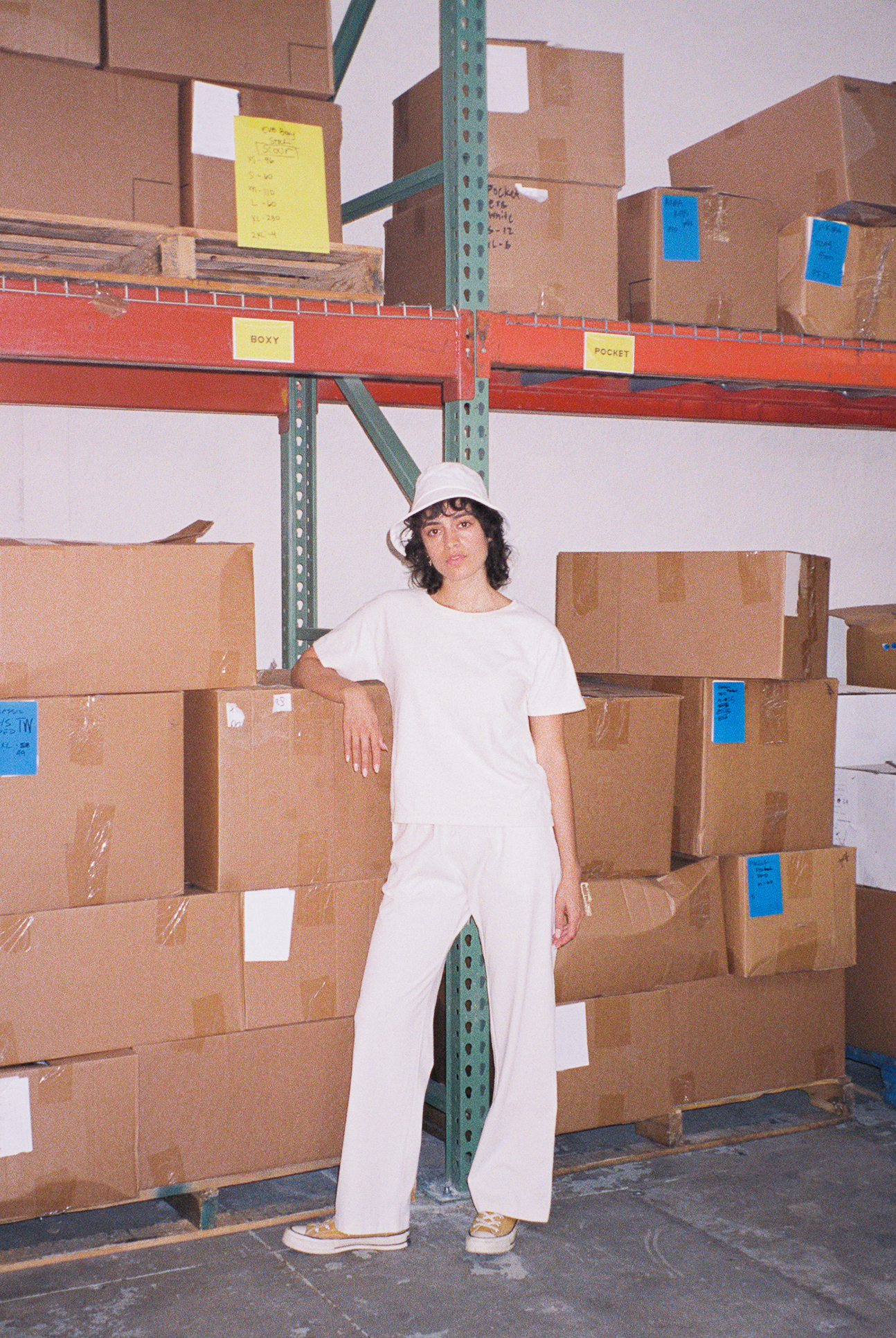 Photo by Sydney Yatco
What does "innovation" mean at EVERYBODY.WORLD?

Reimagining with intention.
On your bio, too, you say you're "reimagining what a fashion company can be." What does that look like to you?
Workers, Ecology, Ideas are the foundation which we built the business on, and since launching in 2016 we've aimed to 'Make useful things with people and the planet in mind.'
We've never been interested in putting more stuff on the planet for the sake of it—even if that stuff is recycled, recyclable, and biodegradable.
For us, reimagining what a fashion company can look like means developing new textiles from US-grown manufacturing waste; making thoughtful goods responsibly in Los Angeles from fabric to finish; collaborating with everyday extraordinary people, and taking time to ask questions like: What is fair? What is sustainable? What is the future of fashion?
Photo by Alexis Gross
What's collaborating with everyday people like? Are we really non-designers?
We may not all be designers in the traditional sense,
but I do think everyone has something missing from their wardrobe
. Maybe that's a garment you'd love to own and have never seen before, or something you absolutely adore but have worn to pieces and can't find the perfect replacement anywhere. Our
Contributor Collection
, created piece-by-piece by everyday extraordinary people, is a place for those ideas to come to life!
Right now, it's a magical group that includes a chess-playing spiritualist, a retired nurse, a gangsta gardener, and a 6-year old, amongst many others. Their individual spirit and style are what unite them.
We commit to each of their ideas for a year and they receive 10% of the sales of their designs.
Photo by Maya Fuhr
What's next for EVERYBODY.WORLD?

Soon we'll be unveiling details around an entirely new textile range. We also have upcoming Contributor Collections with Zizia Botanicals founder Abbe Findley, photographer and director, Danielle Levitt, and Reparations Club, which is a Black-owned bookshop and creative space here in Los Angeles.

We're diving deeper into the world of natural dyes too! For Earth Day we released a limited-edition Long Sleeve which was tie-dyed indigo using composted mango and tamale lime powder. The process and philosophy behind natural dye is very profound and I'm super excited to share more about that.
Sounds exciting! One last ✨ wild card ✨ question for you: imagine you were an object, what would you be?

Maybe a pencil? Purposeful, impermanent, accessible.
Photo by Maya Fuhr
︎︎︎ Teresa Y. of UNCLE TERRY SMELLS