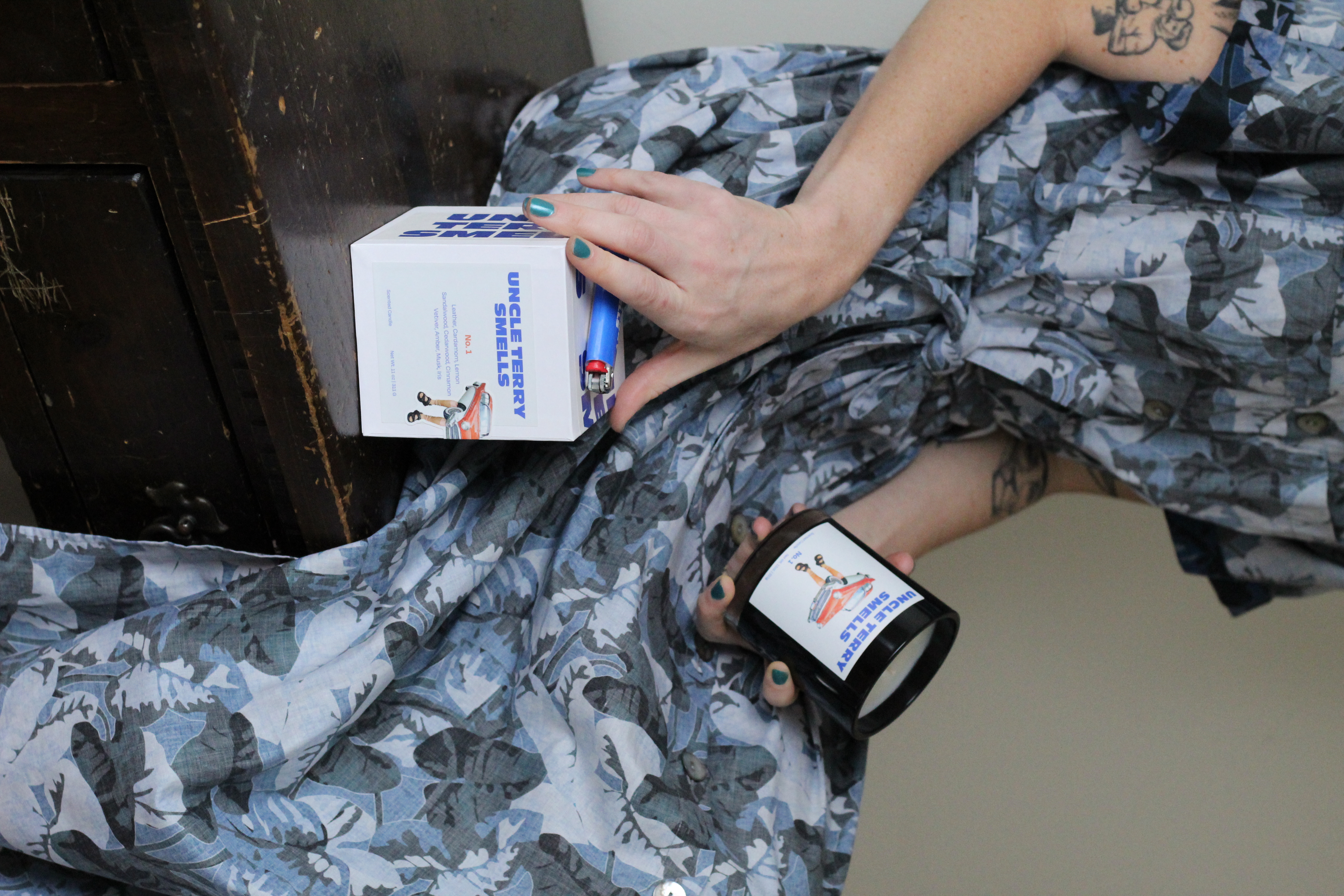 Teresa Y.
Founder, UNCLE TERRY SMELLS
We came across UNCLE TERRY SMELLS, a recently launched candle brand on Instagram, and its loud electric blue aesthetic struck us. Candles that weren't millennial pink or sepia? Count us in.


Upon chatting with its founder, Teresa, we see how her deadpan humour, interest in pop culture, and fashion influence play out towards the charm of the brand.

Read on to learn about her inspiration for creating sensory experiences, and how ultimately it's not candles she's selling. Though no surprise there, when she names what's clearly a candle "Not A Candle".

Things are just getting heated in here.

Hi Teresa, tell us who you are and what you do.


I have no idea who I am. Haha.

I come from the world of both fashion and experiential marketing and recently launched a fun side project/home fragrance brand called UNCLE TERRY SMELLS. What's up?!

What does a day in your life look like?


The business is just little ol' me so my day can be anything from reaching out to press or potential retailers, working with other brands on private label projects, gifting to cool non-influencers, trying to figure out how to file business taxes... It's a hodgepodge.

How did UNCLE TERRY SMELLS come about?

UNCLE TERRY SMELLS began as an exercise in creative strategy.
We wanted to build something that created a "look-and-look-again" moment, a surprise factor.
Something that we wouldn't initially go for in a store but found ourselves drawn to the elevated product, despite the brand's kitsch. The streetwear market's crossover into the luxury space was a key, inspiring factor here.
UNCLE TERRY SMELLS sells candles, sure. But it's really a
feeling
, a
story
, an
experience
... a brand! We're rooted in humor, appreciation for art, and nostalgia for pop culture. We're deliberate in the content we post — focusing more on who we are rather than curated product imagery.
The UNCLE TERRY name is the result of a long-running joke — which we won't bore you with — and serendipitous placement of NYC graffiti. With our three pillars, the name just fell right into place.
Why does the streetwear market's crossover into the luxury space interest you?

More than it being "interesting", I think it's just something that makes sense to me after so many years in the fashion space. 2020 produced some really great white papers on why the streetwear (if we're still calling it that) market is here to stay. Interesting stuff from a brand strategy perspective!
What's actually more interesting to me is how graffiti artists are crossing over into more of a mainstream market and even collaborating with these streetwear turned luxury brands.
I started noticing and learning about graffiti during an agency project I managed with the world's largest exhibition of graffiti and street art. (I won't say the name but you can look it up!) I began paying attention to these artists' journeys, exhibitions, and collaborations — think Kenny Scharf x Dior, Futura x Byredo, Cleon Peterson x Modernica, etc.
While artist collaborations are nothing new, the work with graffiti artists specifically give these luxury brands — a market that is completely turning on its head — some much needed grit.
I'm curious to see where it all leads.
There are many candle brands out there. Why candles?

There are TOO many candle brands out there. I didn't set out to launch a candle brand, or any brand really. I more so wanted to go through the creative process of building something, and fragrance has always been important to me — it's an authentic extension of who we are. The same way that the art you display, music you listen to, or books that line your shelves tell a story of who you are, so does your home (and personal) fragrance.
There is a reason hotels, boutiques, even fitness studios pump a signature scent through their vents.
Scent is an unseen force that breaks through the overload of visuals thrown at consumers and establishes an undeniable association with a brand.
The same rule applies for your home fragrance.
So yeah, candles!
Having just launched three months ago, how would you describe your journey so far?


Slow and steady.
What's been a highlight?


As someone who loathes social media, I've been surprised at how much I've enjoyed connecting with creative individuals who I otherwise would never have been connected with. There's definitely a sense of community there that I never capitalized on with my personal social media.

Anything you understand differently from before?


Design is paramount but doesn't have to be expensive.
Where do you see UNCLE TERRY SMELLS in a year's time?


The beautiful thing about this brand is that it doesn't have to just stay a candle company. We're doing more and more private label projects which I find a lot of creative joy in. Would love to keep expanding on that.

We can't wait to see it. Taking a step back, what's one decision in your life that has shaped you and your work?

The subtle art of not giving a f*ck.

That's a great one. Lastly, who is someone that you are curious about, and given the chance, what would you say to them?


No idea. I'm socially awkward so I'm sure I'd start talking about the weather.